Safe Drinking Water
Initiated by Behring Global Educational Foundation (BGEF), the Safe Drinking Water project was a non-profit program that addressed safe drinking water issues in the rural areas of China, with the joint efforts of China Foundation for Disabled Persons (CFDP) and Chinese Academy of Science (CAS).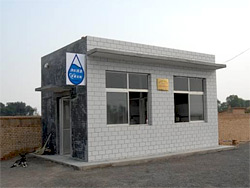 Implemented since December 2006, the project aimed to eliminate water-related diseases and disability for future generations by setting up water purification systems in identified problem areas and providing purified water to local communities

The three-party cooperation laid a solid foundation for the water project. BGEF bringing its sustainability project management expertise and providing funds for water purification systems and spare parts for the first three years. CAS provided all the technical support, including identifying problem areas, analyzing water quality, defining water treatment processes, and conducting project scientific research. CFDP being responsible for the project execution, as it possessed mature local project practice.

Pilot Project
The first project was located in Shanyin County, Shanxi province of China, a typical area in rates of fluorosis and arsenicosis. We selected appropriate water sources in the village for water stations, and housing facilities for water purification systems were constructed and a water station was set up.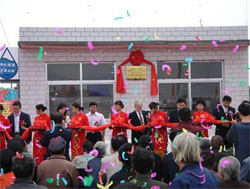 During the trial period, the clean water was provided to the villagers free of charge, and public sanitation education was being conducted. The purified water was sold to the villagers at a reasonable price in regular operation, and the revenue from the water sales used to keep the operation sustainable. The water station was established to be run by an appointed disabled person.

On September 27, 2007, the first water station was launched. It serves 215 households of 830 people within Yangzhuang village by providing clean purified water as well as promoting public health and sanitation education. Villagers are willing to carry water home, and use it for cooking, drinking, and for tea. Moreover, the water station also delivers clean water to a school and old people's home for free.

After the successful establishment of Yangzhuang water station, water stations in the other 5 villages were planned, and completed, in the coming year. The three parties have decided to make every effort to expand water projects to more counties and provinces, to let more people enjoy the happiness brought by safe drinking water. All current Safe Drinking Water projects have been completed. BGEF is no longer accepting donations for Safe Drinking Water projects at this time.

Water Project Documents

^ Back to Top